CONNECTORx CORNERx: 012 - 2023-03-14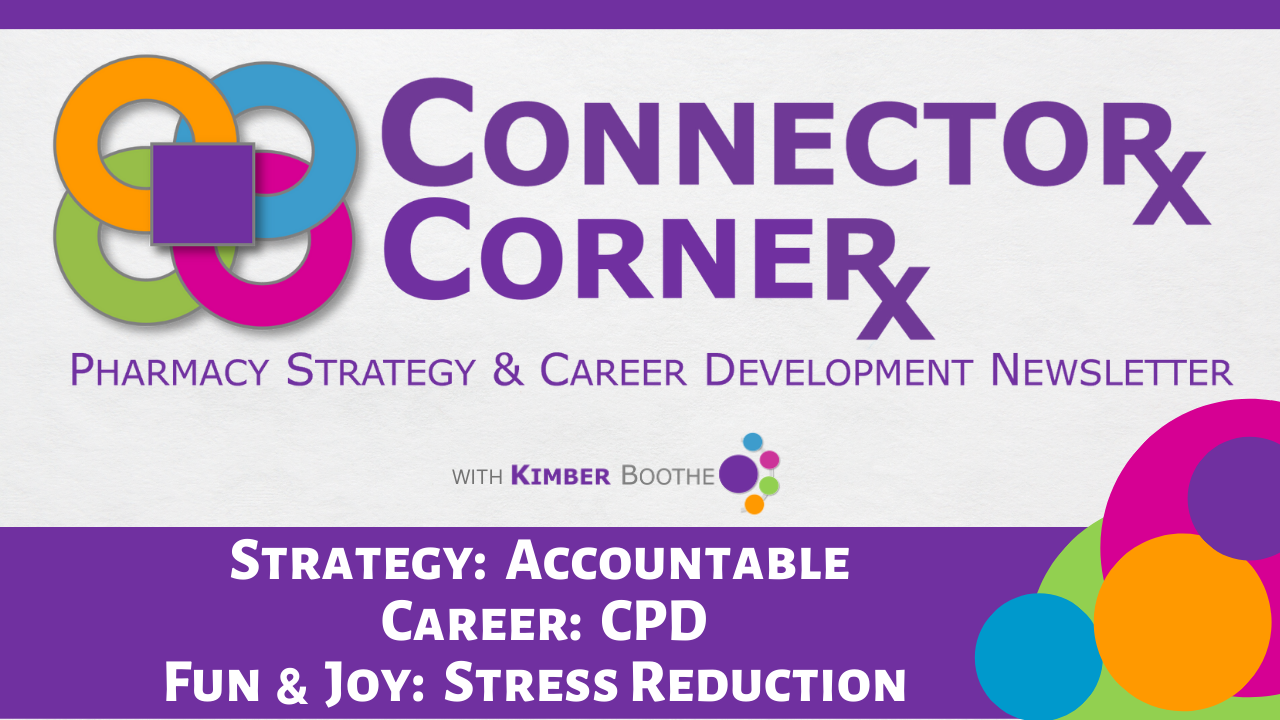 CONNECTORx CORNERx Pharmacy Strategy & Career Development Newsletter: Accountable, Continuous Professional Development, and Stress Reduction
PHARMACY STRATEGY: Accountable
What are you accountable for? Are pharmacists accountable for medications?
Accountable = obligated to explain, justify, and take responsibility for one's actions, and to answer to someone, such as a person with more authority.
I often think about it as the buck stops here with anything related to medications
Examples:
Acute care - medication delivery, smart pumps, clinical monitoring

Ambulatory - prescribing & monitoring, medication assistance, adherence, samples
Establish Accountability:
Set Expectations

Invite Commitment

Measure Progress

Provide Feedback

Link to Consequences

Evaluate Effectiveness
Are you accountable for the entire medication use process in your organization?
CAREER DEVELOPMENT: CPD - Continuous Professional Development
To support a purpose driven life, it is important for you to take ownership of your development - it is a lifelong process.
The purpose of a continuous professional development (CPD) plan is to help you reach your personal and career goals.
Your goals are the destination and the plan is a map. There is not always one way to get to the destination, but multiple routes that prepare you.
One interview question I often ask is What have you done to prepare for this role? Make sure you can answer this question.
READ MORE: Career Development Myths
What are you doing to prepare for your next role?
FUN & JOY: Stress Reduction
How are you handling stress? I find myself asking - how much can we handle?
I am resilient, but the stress got to me on Friday and I wanted to share my revelations with you and some known but not always practiced tips to manage stress.
Healthy ways to cope with stress from the CDC:
Take care of your emotional health.

Take breaks from watching, reading, or listening to news stories,

Take care of your body.

Take deep breaths, stretch, or meditate.

Try to eat healthy, well-balanced meals.

Exercise regularly.

Get plenty of sleep.

Avoid excessive alcohol and drug use.

Make time to unwind.

Connect with others.

Connect with your community.
This guidance matches how I view my life in a simplified 4 quadrants of self, family/friends, community, and lastly my career.
We all need balance.
What are you doing reduce stress?
---
SUPPORT AND RESOURCES:
I am here to support you in your journey to advance pharmacy and accelerate your joyful engaging career. Schedule time for us to connect.
Get this CONNECTORx CORNERx Newsletter delivered to you.
Want more impact and joy in your pharmacy career?
Get the 10 Ways to:
Advocate for Resources, Advance Pharmacy Practice, and Accelerate Your Career
We won't spam. Unsubscribe at any time.